6Pcs Magnetic LED Emergency Beacon Roadside SOS

Key Specifications/Special Features:
6pc LED Road Flares Emergency Light with Storage Bag great for dividing up among family members. A Perfect Emergency Kit to keep in the trunk of their vehicles for Roadside emergencies and distress situations.
Feature:

For trouble car traffic warning, police pavement planning sign (way stud), surface buoy and maritime salvage sign, identification for emergency vehicle discovery, major vehicle transport warning, rescue action sign, etc.

16 Super bright LED lights, this emergency beacon kit will make sure you stay clearly visible up to 5,000 feet which coupled with the shock-resistant and crush-proof build makes it ideal for anyone that wants to maintain their safety whether driving a car, riding a road bike, sailing on a boat and more

Strong magnetic backing and hanging hook, you can easily hang the emergency LED flares on tree branches or attach on the side of your car or boat

The lights features 9 flash patterns: rotate, quad - flash, single - blink, alternate, SOS (morse code) rescue, solid - on high, solid - on low, 2 led flashlight, 4 led illuminate

Built-in 700mAh rechargeable lithium ion batteries, includes wall charger, car charger and carrying case (recharging case), the lights are convenient to charge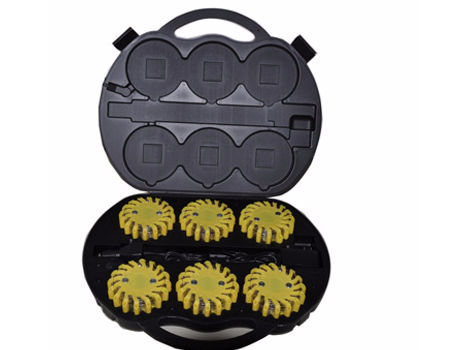 Specifications:

Color: Orange
Hosing Material: PC
Lighting source: LED
Rechargeable Lithium Ion-Battery: 700mAh, 3.7v
High visibility: Day 100m, Night 900m, In water 1600m
Magnetic Base: Yes
Flash Pattern: 9 (rotate, quad - flash, single - blink, alternate, SOS (morse code) rescue, solid - on high, solid - on low, 2 led flashlight, 4 led illuminate)
Carrying Case Included: Yes
Package Content:
6pc Emergency Strobe Light
120V/240V wall charger
12V/24V car charger
Carrying Case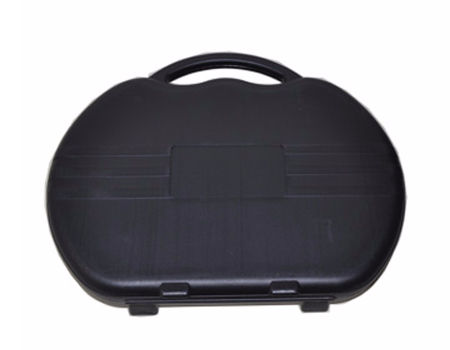 6 Pack of Rechargeable 16 LED Red Disc Warning Beacon Emergency Road Flares
Here is a perfect emergency LED road flare that comes in a set of six. This is super bright and has a visibility of 360 degrees. In this, you will find multiple flash patterns and is of multipurpose use. Moreover, it comes in a low profile and is very slim. This is easy to mount and comes with a magnetic base.
Furthermore, this is very durable and can tackle heavy crush. It is also lightweight and is perfect to use as warning lights. Additionally, this has waterproof housing, and you can easily use it on harsh environments as it has a rugged structure.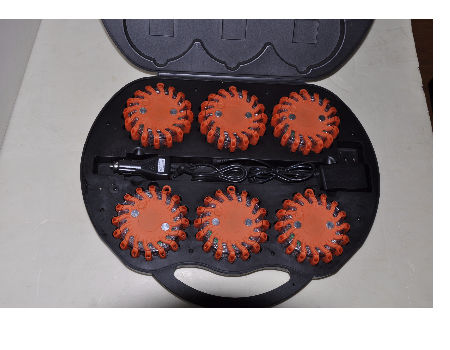 key point
360-degree visibility with a bright LED.
Multiple flash patterns and slim design.
Magnetic base with easy power button.